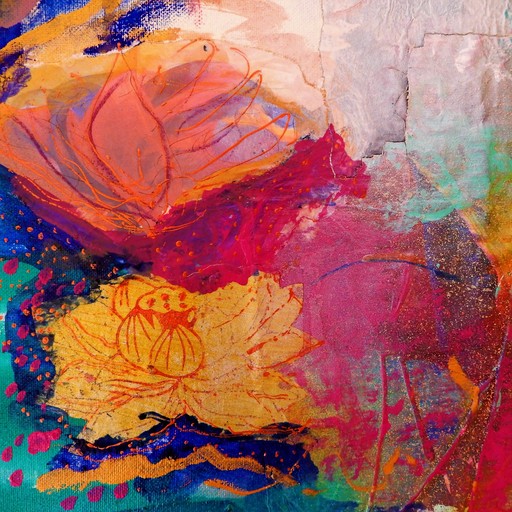 Reinharda Drijfhamer
Reinharda Drijfhamer (1957) is een veelzijdig kunstenares. De hele wereld is haar atelier. Ze schildert, tekent, maakt twee – en driedimensionale mozaïeken, ze reageert direct op de mogelijkheden die het landschap of de directe omgeving haar biedt met installaties en projecten, solo of in samenwerking met collega kunstenaars. De resultaten blijven vaak een gift aan het landschap. De processen van haar projecten op locatie legt zij fotografisch vast in haar kunstboeken.
Haar collages van materialen die zij verzamelde, zijn de weerslag van de indrukken die ze op deed tijdens haar talloze reizen. Sinds ze o.a.ook in Frankrijk werkt heeft Land-Art zijn intrede gedaan in haar werk. De natuur werd haar inspiratiebron. Met wind, water, zand en organische voorwerpen komt telkens een nieuw project tot stand.
Op haar reizen neemt ze meestal een uit te voeren project mee als bagage, zoals de laatste keer in Spanje en Marokko waar haar ″ Travelling Flowers″ onderdeel werden van het landschap.
Drijfhamer volgde de 5-jarige lerarenopleiding Tehatex in de richting tekenen en textiel. Daarna studeerde zij aan de Kunstacademie ( AIVE) richting Autonome Vormgeving Eindhoven (huidige design academy). Ze ging aan het werk als designer voor papier en textiel, was 22 jaar werkzaam als docente beeldende vorming, gaf workshops en had meer dan 100 exposities in binnen- en buitenland.
Marijke van Overbeek Coördinator tentoonstellingen CKE
------------------------------------
Reinharda Drijfhamer (1957) is a multidimensional artist. The whole world is her studio. She paints, draws, makes two- and three-dimensional mosaics, she reacts directly to the possibilities that the landscape or the direct surroundings offers her with installations and projects, solo or in collaboration with fellow artists. The results often remain a gift to the landscape. She records the processes of her projects on location in her art books.
Her collages of materials that she collected are the repercussions of the impressions she did during her numerous trips. Since she also works in France, Land-Art has entered her work. Nature became her source of inspiration. A new project is always created with wind, water, sand and organic objects.
And furthermore she paints banners, works with handmade paper, paints on canvas in acrylic, memorials on panels, small and large sizes. You can see an overview on her website.
Reinharda followed the 5-year Teacher Training Academy Tehatex in the direction of drawing and textiles. She then studied at the Art Academy 5-year in the direction of Autonomous Design Eindhoven (current design academy).
She went to work as as a teacher in visual arts for 22 years in the Netherlands, and she gave workshops. Reinharda also worked as a freelance designer.
As independent artist she had more than 125 exhibitions in Europe since 1983.
You can buy her work, there is also possibility to rent her work for at least a year
More information about this reindrijf@aol.com